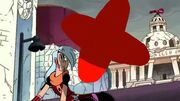 I don't know if the Crossover Nexus is canon or not, but let's begin shall we?
Prohyas is a idiotic hero of the Mighty Magiswords series.
In the series finale, Rad came here to help Witchy Simone which is counts to be a canon.
In the one of the episodes from OK KO, Adventure Academy has mentioned.
Everyone wants the Mighty Magiswords and OK KO Let's Be Heroes crossover which is made to the series finale.
X send him to the CN City which is abandoned because of X.
I'll coming up for the ideas soon...