The Cave of Gelatinous Doom! is the thirty-second episode of the first season of Mighty Magiswords, and thirty-second episode overall. It aired on July 10, 2017.
Sypnosis
The Warriors don't have a worthy adventure to use their impressive new skull-and-crossbones-emblazoned Bonehead Magisword until they are sent on a quest to battle a mighty slime beast in the Dungeon of Gelatinous Doom.
Characters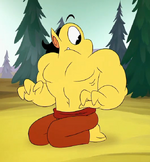 Magiswords used
Bonehead Magisword (debut)
Hover Sword
Measuring Tape Magisword
Snowball Magisword
Rad Rocket Magisword
Exploding Bubble Magisword
Radiator Magisword
Hypno Magisword
Super Teamwork Combo
Bone-Doggle (Bonehead Magisword + Hypno Magisword)
Trivia
The pacing has changed and toned down in this episode. This is because Kyle Carrozza himself opted to time this episode after hearing the open-known criticism of the show's pacing and dialogue sequences. The slow pacing was later implanted for the rest of the season, and adjusted even further for the second season.
This is the sixth time the Cave of Stuff had a different theme; The Cave of Stuff theme is giraffe.
Cultural references
According to Arin Hanson, the inspiration for Krakov's voice was his impression of Ivan from the video game Devil's Third upon request by creator Kyle Carrozza.[1]
Gallery
Animatic
---