Bureaucrophobia is the thirty-ninth episode of the first season of Mighty Magiswords, and thirty-ninth episode overall. It will air on July 18, 2017.
Sypnosis
With Teri Gargantuan in trouble, her spider kids hire the Warriors to save her from a mad mercenary spider hunter.
Characters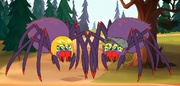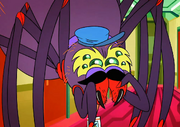 Francis Thingshooter
Tracy and Bobipher Gargantuan
Logan Gargantuan
Thaddius Thirdwell III
Magiswords used
Spider Web Magisword
Monster Suit Magisword
Retractable Ladder Magisword
Ball Point Magisword
Sharkblade Magisword
Chainsaw Magisword
Rad Rocket Magisword
Tomato Magisword
Mega Drill Magisword
Electric Razor Magisword
Excaliburger Magisword
Instant Wrap Magisword
Slingshot Magisword
Super Teamwork Combo
Spider Trebuchet (Spider Web + Slingshot)
Gallery
Trivia
When Prohyas and Vambre are in the waiting room, Vambre manages to break the Waiting Room Machine by asking if the Unladen Swallow that was being served was a Rhyboflavish Swallow or Galactonian Swallow. This is a reference to the Bridge of Death from Monty Python and the Holy Grail.
The title card of this episode was a homage of the theatrical poster from the 1990 horror film Arachnophobia.
This was Teri Gargantuan's first appearance in the TV series.
Prohyas dressing up in a beast costume with a crown referencing from the book and a 2009 movie adaptation Where the Wild Things Are.
The announcer shows of how the Warriors met Teri and her babies was a flashback clip of "Stairways & Spiders".
The title card is misspelled.
---